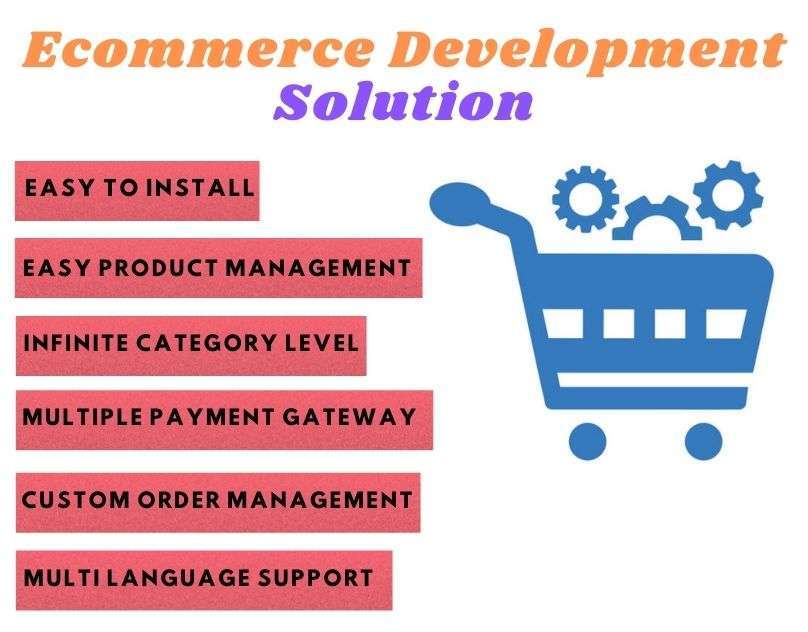 Why one should have an ecommerce website?
Ecommerce website design is paving its way to the mainstream because it tends to simplify business processes in a jiffy. With the help of e-commerce design you succeed in giving an excellent storefront to your business, thus enabling it with a higher form of selling your merchandise. E-commerce Portal takes a pivotal role in extending the limits of your marketing campaigns. Moreover, these interfaces help you immensely when you are too busy in trimming the cost factors. In a nutshell, the value of these portals would reflect in everything, the products, inventories and all of the virtual properties.
Now, without beating about the bush we should delve right into the middle of the value quotient, which you can clench from  eCommerce development while trying to get the best possible advantages for your business through the web portal you plan to develop.
Offer services, customized for your customers
E-commerce website design is a fresh approach that helps you keep in style and reach out to your target audience with their preferred collections and latest trends. You can add up a "Customer first "kind of an approach in the sales methods.
The purpose
While serving your customers through a web portal of yours, you have the chance to add more flexibility as well as comfort level in the transactions. With a hefty e-commerce site in your stride, your customers don't need to storm into a number of shops or outlets. They will get all the variety in your store without setting foot out of their house.
The convenience of the customers is assured
Efficient customer service, which you will ordain through e-commerce business models, will serve as a fulcrum or a sturdy pillar for your business. It will, in fact, add power to the way you choose to hold up to your business tactics.
You will gain the leverage of real time communication with the demographic you have targeted as your niche market.
The trust factors will bloat up or increase in a while. Within a few months of starting your e-commerce operations, your business will generate the adequate faith in the target demographics.
The functions will be simplified. It will add to the list of favorites of your target customers. What's more, things will be more accessible to the public or target consumers. Thus, you can assure value driven solutions for long periods to retain your existing customers and hold on to new customers.
Having a front-end virtual store is like a dream to many businesses which seem to be eager enough to stay competitive in the midst of harsh situations. E-commerce websites would offer you that alternative with an impeccable force. The best part is that the portal will help you with both the front-end as well as back-end customer handling solutions. With such a feature-studded portal, you feel like you are always connected with the demographic you choose to promote your products and services. Be it interaction with the target groups or be it the sales of your products, you can be in control.
Diverse Business models
When you set up your e-commerce store, you can have access to a wide range of business models, which could not perhaps materialize in a regular or traditional retail set up. As you come to introspect the business models, you will realize that there are categories such as C2B, B2B, B2C, C2C, C2A etc.
The practice of e-commerce is the smartest means to entice a large number of footfalls from your target demographics. Rope in encouraging ratio of web traffic with attention-grabbing features such as carts (built-in) and integrated payment options. Fetching some third party plugins in would be a trusted measure at your disposal.
The web store which you intend to set up, will not only save your time but also the time of your valued customers. That's the real prowess which catapults people into the habit of comfy online purchase.
The effectiveness of the user interface
The user interface will feel like it has been magnificently revamped. The more enhanced your user interface is, the better your connection with your target market will be. If you own a small scale or a medium sized business to your credit, you will be amply benefited from the attention grabbing user interface for sure. Your business interface would prove to be the face of your business. Thus, it is going to be the brand essence which you propose to unleash through the user interface. So, taking a nit of a careful action step would be necessary here.
In the form of an e-commerce site, you will have an end to end marketing portal that never gives up on you. You can morph eCommerce website design into a trusted sales force. You can sell your products here. At the same time, you will be able to create user centric campaigns and promote them. As a matter of fact, you will have the opportunity to integrate your inbound marketing campaigns with the interface that you own.
With the help of your online business portal, you can make the life a lot easier for your client and customers. The portal is in fact going to do its client management part in a proactive fashion. So, by all means you are going to get a quick exposure to a complete win-win situation. You can safely say or lay a quick wager on the aspect that your web interface would be the strongest reason behind your move towards an ROI growth.
If you are hell-bent on growing the brand essence and captivating persona of your business, you should focus on eCommerce development company. Consider it as a marketing strategy that never gives up on you. Choose e-commerce and choose to do better and be more in a market fueled with tough competition. Alongside an instant increase in the customer base, you can envision a sure and certain global reach for your brand. That global exposure will help you stay competitive even in the midst of a grim rivalry in the market.